Crazy Kidney Camp is a Survivor/Total Drama-styled show based on Camp Lazlo and the first season of the "Crazy Kidney" series. The show premiered on YouTube on February 1st, 2009 as one of the original 3 DJ TOONS. It ended on February 7th, 2009 and spun a second season which premiered a few weeks later.
Show Info
Edit
Made by: Munchlax318
No. of episodes: 8
Running time: 2-6 minutes
Original site: YouTube
Original run: February 1st, 2009 - February 7th, 2009
Status: Ended
Succeeded by: Crazy Kidney Theatre
Overview
Edit
This season involved 10 campers who got sent to Camp Kidney and ended up partaking in a reality show called "Crazy Kidney Camp". The campers were given challenges or tasks every day to complete. Whoever lost or did the worst would be up for elimination and the camper who ends up getting eliminated would have to follow Chef McMuesli and board the Perish Van, which would take them away and die. This process continued until only two contestants were left to compete in a final challenge, where the victor won $1,000,000.
Elimination
Edit
For more information about this section, visit: Crazy Kidney Camp elimination table
This is the process in Crazy Kidney Camp in which a camper is eliminated; initially, whichever camper didn't win or ended up failing a challenge or task would be up for elimination. Every camper will have to vote for at least one contestant and the one with the most votes against them would be eliminated from the competition. In certain challenges, a camper would be automatically eliminated without any votes if they lost a challenge or failed to do a certain task.
Characters
Edit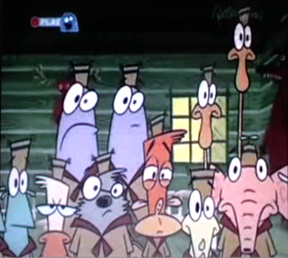 Ten campers, plus the host, Scoutmaster Lumpus, his assistant and co-host, Slinkman, and the chef, Chef McMuesli.
| Character | Episode present count |
| --- | --- |
| Clam | 8/8 episodes |
| Lemming | 8/8 episodes |
| Edward | 8/8 episodes |
| Scoutmaster Lumpus | 8/8 episodes |
| Chef McMuesli | 8/8 episodes |
| Raj | 7/8 episodes |
| Chip | 6/8 episodes |
| Skip | 6/8 episodes |
| Sampson | 5/8 episodes |
| Dave | 5/8 episodes |
| Lazlo | 5/8 episodes |
| Slinkman | 5/8 episodes |
| Ping Pong | 3/8 episodes |
Episodes
Edit
There are a total of eight episodes in this season.
| Episode No. | Title | Summary | Airdate |
| --- | --- | --- | --- |
| 1 | Weenies To Die 4 | Ten different campers arrive at a summer camp to find out that they will be participating in a reality show; Three campers partake in their first challenge: making dicks out of cooking ingredients. | February 1st, 2009 |
| 2 | Inspect The Unexpected | The nine remaining campers have to clean up the camp for inspection. One camper decides to send three others off on a wild-goose chase. | February 2nd, 2009 |
| 3 | Astroheads For Underbeds | The eight remaining campers are forced to wear diapers for a whole day. | February 2nd, 2009 |
| 4 | Undead Island | Two campers have to help the eliminated campers find buried treasure before the later turn to dust. | February 3rd, 2009 |
| 5 | Edward's Nightmare | One camper declares a whole day all about worshiping himself, but the other five take it the wrong way. | February 4th, 2009 |
| 6 | The Battle To Stupidity | The final four campers have to protect the host's tent from getting demolished. | February 5th, 2009 |
| 7 | The Best Of "Die" | The final three campers are judged on to see who said "die" the most in the past episodes. | February 6th, 2009 |
| 8 | Clam Vs. The Lemming | The final two campers participate in one last challenge to see who will win the grand prize, with all of the previously eliminated campers returning to help out. | February 7th, 2009 |