F+



Gender

Male

Hair Color

Black strands of hair

Family

Friends

Everyone except enemies

Enemies

Shows

First Appearance

Pilot (F+ Man)

Episode apperances

1-3 (F+ Man)
Frank "F+" Chet
is the main mascot for the
DJ TOONS YouTube page
. He is also
Snorlax318
's first character that he made as a DJ TOONS character. He is known for appearing in Snorlax318's flipnotes on
Flipnote Hatena
. It is revealed on Snorlax318's Flipnote Hatena profile that he was created when Snorlax318 was in the 7th grade.
F+ Man (xtranormal version)
Edit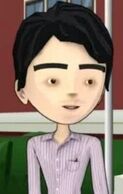 F+ first appears in the
Pilot
episode. He goes to college & lives in a dorn shared with his older brother Roger & son Barry. He tries to get a good grade with the help of Roger most of the time, but sometimes fail. In one episode, Roger makes a car for him in order to make a grade on an extra-credit assignment, which is to do an incredible car stunt, but fails when engine sludge falls on his car. F+ personally loves to ask for help and would do anything to get a good grade. The show cancelled when it reached it's 3rd episode, but F+ still appears in flipnotes made by Snorlax318 in the
DSi
application, Flipnote Studio in Flipnote Hatena.