Jimmy Perkins



Gender

Male

Hair Color

Gray

Friends

Only members of the Sea Perkins

Enemies

Shows

First Appearance

Revenge Of The Perkins

Episode appearances

33

Voiced by
Jimmy Perkins
is the leader of the Sea Perkins. He is also the only Australlian character in the
Flapjack Dub
. Like all members of the Sea Perkins do, he truly hates K'nuckles a lot for getting the gang grounded for stealing the Retarded Whale's cardboard. Jimmy is a one-time character in the show.
Flapjack Dub
Edit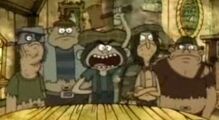 Jimmy first & only appeared in
Revenge Of The Perkins.
In this episode, Jimmy & 4 other remaining members (Ricky, Phil, Johnny & Rodney) took over the Storyteller's Club. Jimmy is also revealed to be the actual leader of the Sea Perkins (Ricky was believed to be the leader, but he's not). The gang were back for revenge on K'nuckles for getting them grounded in
Sea Perkins
& trying to befriend Flapjack. They eventually ban K'nuckles from the club & were revealed to be kidnapping the original storytellers. Because of this, the members got arrested & thowed to get back at K'nuckles one day.