Mario



Gender

Male

Hair Color

Brown

Family

Luigi (younger brother)

Friends

Everyone except enemies

Enemies

Shows

First Appearance

Plumbers On The Go

Episode appearances

1-6
Mario
is the legendary mascot of
Nintendo
& a plumber. He is known based on his appearance & his jobs in the Mushroom Kingdom. He fights his arch-rival, Bowser all the time in case that Peach gets captured.
Super Mario 64: The Grand Series
Edit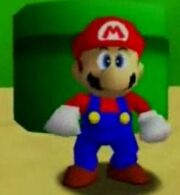 Mario first appears in
Plumbers On The Go
, where he is invited to Peach's Castle by Peach herself for some cake. Mario is only there to get the cake & is revealed that he has no feelings for Peach at all. Mario makes friends with Lakitu (a former partner of Bowser) & decides to make him his guide. Mario is then forced to collect 8 power stars to defeat Bowser & free Peach. Mario then reunites with Yoshi & makes friends with a red Bomb-omb named Bumbs. At the end of
Lethal Alliances At The Bully Kingdom
, Mario is looking for the last power star, but Bowser successfully kills him with his death cannon. In
Soar To The Distorted Sky
, Mario ends up in heaven, uses the power of the 8 power stars to revive himself, & heads straight to Bowser to defeat him for the final time.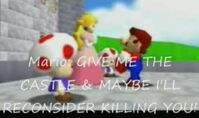 Mario defeats Bowser and regains the Grand Star. In
Mario's Departion
, Peach is then released & thanks Mario for saving her. Mario gets angry because he demands his cake that she promised him. After Peach kisses him, Mario uses Bowser's death cannon to kill her & crowns himself king of the Mushroom Kingdom.